Your best choice for basement remodels.
With a basement remodel, Denver homeowners can finally make use of every square foot of their homes. Whether your basement is a sunny walkout or a dark dungeon, with our fifteen years of remodel experience we can turn it into a basement you will love to spend time in. A basement that meets your precise needs.
We know that a basement remodel can add more than usable space to a house. It can also add significant value, but only if the remodeling work is done to the same quality as the rest of the home's construction. This means hiring experts who are quality and detail oriented. Your satisfaction is always our top priority. That's why we send one of our design professionals right to your home to discuss the basement remodel, Denver or anywhere across the Front Range of Colorado. You'll also be assigned one project manager, once the remodel gets underway, to ensure quality, ensure the job proceeds in a timely fashion, and ensure there is always someone available to your to allay any concerns, answer any questions, and know all the details of the project.
When it comes to a basement remodel, Denver clients want them for many different reasons. Some are looking to simply spruce the basement up, make it as warm and bright and inviting as the other floors of their home. Some want the remodel for specific reasons, such as adding a new bathroom, a guest room, or a home office.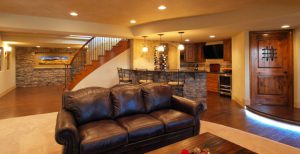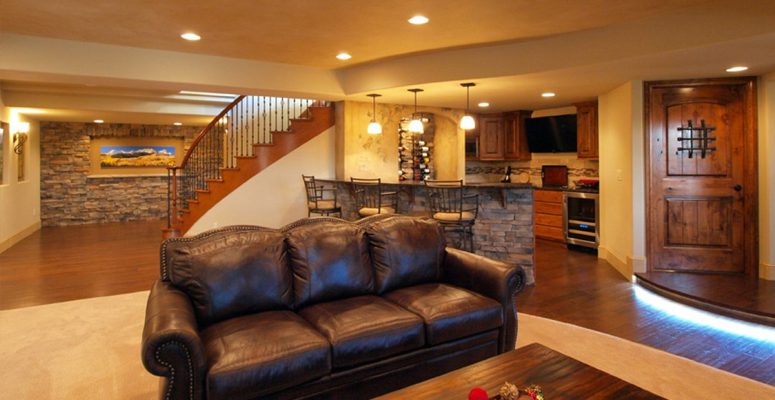 With one of our basement remodels, Denver homeowners can have the space divided any way they like. We can put in a kitchenette, turning the space into a mother in law apartment. We can turn it into a giant entertainment room or home theater. Or how about a gorgeous bar or fireplace?
What are you thinking of when you hear the term, basement remodel, Denver? To give you some great creative ideas, why not take a look at our basement remodel gallery. You'll see just some of the various basements we have created for our Colorado clients and probably come up with some great ideas for your own.
Click here to check out our basement remodel gallery of photos.
If you do have ideas for a basement remodel, Denver or across the state, or if you just want to discuss ideas and get some idea of costs, we encourage you to give us a call today or use our handy "request a quote" form by clicking here. With a triple A Better Business Rating and their Gold Star indicating no customer complaints, we'd love to be your Denver area trusted basement remodel contractor.