Upgrade your basement
Are you looking to upgrade your basement? If it is unfinished, you can add great value to your home by having it finished. With basement finishing, Denver homeowners get to make use of every square foot of their homes, for the purposes and activities they are interested in.
Or if your basement is already finished, perhaps it needs an upgrade. Perhaps it's "okay" but no one really uses it. Perhaps you have specific needs that it doesn't suit at the moment.
There are many reasons for basement finishing, Denver customers tell us. Some of the most common reasons to bring in contractors to redo or upgrade a basement include:
1. You've had another child and need another bedroom and bathroom. Basement finishing has become a necessity.
2. Your mother in law or other relative is coming to stay, and you want to build a separate apartment so you can both have privacy.
3. You want to add a stream of income by renting out your basement, and you want to add either a new bedroom, a new bathroom, a kitchenette, or any other arrangement of the space. Basement finishing, in this case, might just pay for itself in record time.
4. Your adult child has graduated college and is moving back home for a while, but you've turned their room upstairs into your office. So you need to build them a room in the basement, the only space you have left. Basement finishing, in this case, might save all your sanity.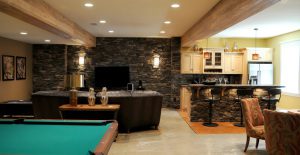 5. You love entertaining and want a great entertainment room with a built in bar, or a fireplace, or a nice area for a pool table or ping pong table.
6. You want to create a home theater, complete with the biggest flat screen that will fit the space and maybe even rows of theater style seating. Don't forget the popcorn machine!
7. You have a downstairs bathroom, but would just love to add a steam room or sauna as well.
8. You're considering selling the home and want to add the type of investments and upgrades to the basement that will make it worth considerably more money on the market. Basement finishing or upgrading is one of the best investments for ROI, but that's only true if the work is the same quality as the rest of the home.
Here at Colorado Finished Basement, we have fifteen years of experience working with our clients to create custom basements that meet both their needs and their tastes. After all, you want your basement to be beautiful, comfortable, inviting. You want to get the most use out of it as possible. So when it's your turn for some basement upgrades or basement finishing, why not call in the experts at Colorado Finished Basement. We'd love to earn your business.