A new room for the kids
A brand new basement playroom can help you get the most use from every square foot of your home. When it comes to a basement playroom, you'll first need to consider the type of activities you and your kids like to do. With younger kids, just a comfortable room with a TV might be enough. For older kids, you might want room enough to add a ping pong table, a pool table, or that huge plasma TV for your teen gamers to settle in with their Xbox and geek out with. Don't forget the built in shelving, so the kids can have plenty of space to put away their toys, their games, their DVDs, etc.
When it comes to a basement playroom, you might want everything to be built with as easy clean substances as possible. For easy cleaning, you might want a tile floor, or plush carpeting. You might want to add a new bathroom too, so the kids can simply disappear into the basement and not be seen or heard again for hours. Maybe even a mini refrigerator loaded up with snacks, if you really need some peace and quiet on the main floor.
For those artists in your family, how about one wall painted with chalkboard paint, so they can scribble on the walls to their hearts' content?
Basement playrooms have a lot of advantages: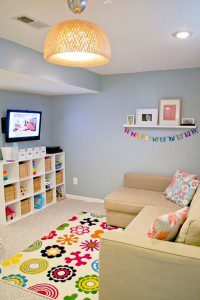 1. The kids' mess is out of sight, instead of sprawled all over your beautifully furnished living room.
2. The shrieks and squeals that always accompany kids at play are muffled, leaving you in peace upstairs to get whatever done that you need to. You might consider adding extra soundproofing to the ceiling!
3. That basement space is finally utilized in an effective way, making your home more livable and expanding your usable space. You might want it painted in much brighter colors than you'd ever use on the main floor, to attract the kids and add a sense of fun. You also might consider adding extra insulation, so the basement stays warm, comfortable, and utterly usable even in the cold Colorado winters.
And what about those kids of all ages, meaning you! What kind of a playroom would you like to put in your basement? Whatever idea you have, we can help design and build it. Please contact Colorado Finished Basement for a design appointment or a quote. We'll send one of our experienced designers to help you create the perfect basement playroom.
Colorado Finished Basement by Scottish Home Improvements has an A+ Better Business Bureau rating. We pride ourselves on our quality work, our outstanding customer service, and our project managers who ensure all basement remodeling jobs proceed as smoothly as humanly possible.