Your trusted basement remodel contractor
In Colorado, finished basements can add a lot of usable space to a home. They can also add value to the home, providing the basement remodel is done with the same quality of materials and building as the rest of the house. That's why you want a trusted contractor like Colorado Finished Basement by Scottish Home Improvements.
When it comes to a basement remodel, there is a wide array of options. If your basement is currently unfinished, you'll be able to decide exactly what you want to put down there. But even if your basement is already finished, with a remodel you can still take better advantage of the space and build exactly what you need for your use.
Some of the rooms and features that are the most popular for Colorado finished basements include:
An entertainment/game room
A family room/kids playroom
A home theater/media room
A home office/home business
Another bedroom, guest bedroom, teen's bedroom, etc.
A mother in law apartment
A bar for entertaining
Another bathroom
A steam room/sauna
A wine cellar
A sewing room/craft room/music room
As you can see, with Colorado finished basements, your basement can be divided and organized to suit any purpose at all. We add the features you want, whether it's one large room or several smaller ones. Whether you want regular drywall or paneling, or an exposed brick or stone wall. Whether you want the basement built with extra soundproofing, built in shelving, recessed lighting, or any other features.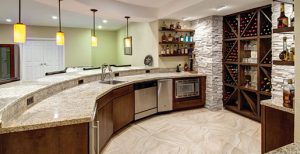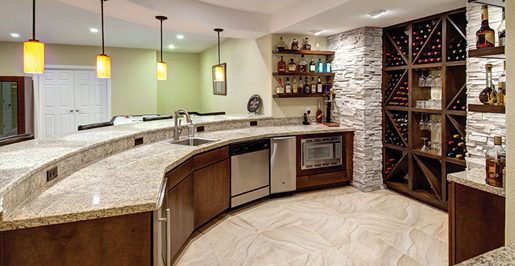 When you work with Colorado Finished Basement, you are receiving the benefit of over a decade of basement remodel experience, along with expert, detail oriented contractors who have an outstanding Better Business Bureau rating for many years.
We don't care whether your project is large or small, we've done every type of basement remodel imaginable. To take a look at some of our Colorado finished basements, click here.
Why not make the most use you possibly can out of your basement and add value to your home at the same time? Many people today have expanding families, aging parents they would like to incorporate into their household, and college kids who leave home, only to come back for any number of years. By creating a custom finished basement, designed and built exactly for your needs, your home's space will be maximized in ways you will truly appreciate.
For our customers in Colorado, finished basements start with a consultation. You'll discuss exactly what you want with one of our sales reps and receive a bid for the job. Moving forward, you'll be assigned one project manager who can answer any questions and make sure the project moves ahead as quickly and smoothly as possible.
For more info about Colorado Finished Basement, please contact us today.