Basement wine room for relaxing and entertaining.
You've heard of a wine cellar. Maybe you even have one. But what about putting your basement to great use with a basement wine room? Kind of like a wine bar, but right in the comfort of your own home.
Imagine your friends' and family's delight when you invite them over for a wine and cheese pairing evening, right in your very own basement wine room?
Do you already have a finished basement? Usually, people find that there are areas in the basement that never get used. This is a waste of good space. Adding a wine room is a chic, sophisticated, and flat out fun way to get more use of your basement, especially if you are a wine enthusiast.
What would your perfect wine room include? If you have the space, you might want to add a bar and a section for storing your wine collection. You might want storage built into the walls in the form of wine racks. You might want a lovely seating area with comfy couches and chairs perched on a lovely carpet. You might want a refrigerator under that bar to chill your wines or carry some club soda and other items for the non-wine drinkers in your family. Or for the cheese, or whatever else you are planning to serve with your wine.You might want a stereo system wired into the room, for some great sound.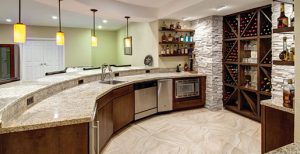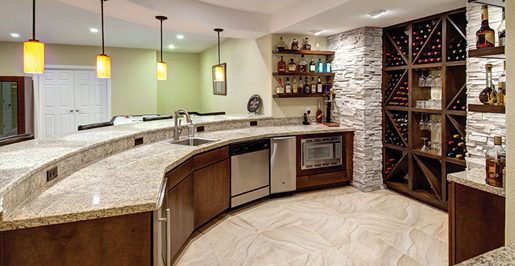 You'll need to make a lot of decisions to get your new basement wine room just the way you imagine it, but the professionals at Colorado Finished Basement are here to help.
Some of the nicest wine rooms we've seen have a separate wine storage area, climate controlled to the perfect temperature for storing expensive wines, and separated from the main area by a glass wall. Why glass? Because if you do collect wine, you probably enjoy everything about it. Even the sight of your collection. In this way, your bottles of wine can have the temperature they need to stay in perfect condition and you can have the temperature you need to entertain and relax.
Whatever your vision for a basement wine room, Colorado Finished Basement can help turn it into a reality. We have over fifteen years in the basement remodeling industry. If you want it, we can build it.
For more information about starting the process to create the perfect basement wine room in your home, why not give us a call today? We're happy to offer advice and suggestions, answer any questions, or send one of our experienced sales pros out to look at your space and get your basement wine room underway.