Basement remodel for more livable space in your home.
Do you need more space in your home? Perhaps it's time to look for a bigger home, but if that's not practical or even desirable, then you might want to take a look at how you are utilizing the existing space in the home you already have. And you might just want to consider a basement remodel, to give you the usability you are looking for.
Your basement might already be finished, but is it providing the space you need or the amenities you need? Here are eight great ways your basement can be utilized with a basement remodel:
1. Build a beautiful bar for entertaining. You can add shelving or cabinets behind the bar, or even a stained glass backdrop with your family's name or crest.
2. Create a new family room, complete with pool or ping-pong table, giant flat screen, surround sound, or whatever you want to chill with your family and friends.
3. Add another bathroom. This adds good value to a home and can take the strain off the other bathrooms.
4. Add a guest room or bedroom for a teen who's too old to share with his or her baby sibling.
5. Add a mother-in-law apartment, perhaps with a kitchenette, for your mother-in-law or perhaps to rent out for added income.
6. Build an office or two, for family members who work from home, at home, or are starting a home business.
7. Create a music room, sound proofed of course. Or even a music studio, if you have musicians in the family.
8. Build in whatever kind of extra storage space you need.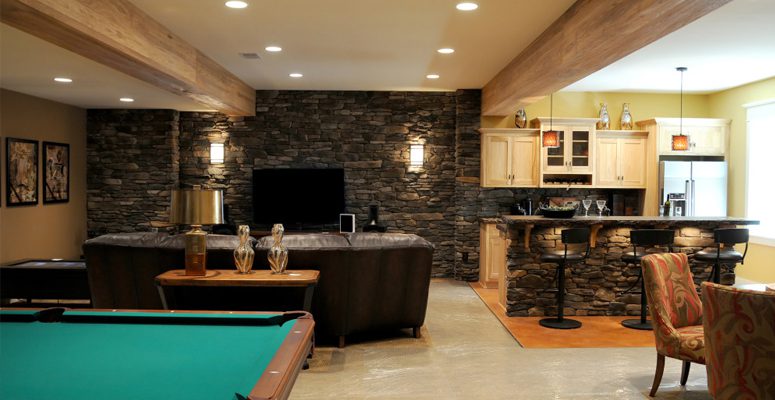 As you can see, your basement remodel can include any type of rooms and amenities you want. When you work with Colorado Finished Basement, you can relax. We have over a decade in the basement remodel business. You'll be assigned one project manager, who will communicate with you, answer any questions, and make sure your remodel goes smoothly from start to finish.
So with the worry off your shoulders, what would you like in your new remodeled basement? Shag carpeting? Wood paneling? Stained glass to cover those ugly well windows? A built in sound system? Recessed lighting? A custom shaped or carved wooden bar? A sauna or steam room in the new bathroom?
Let your imagination roam free when it comes to the design and what you'd love to have in this new usable and livable space. We do custom work to your specifications, and will help you design the basement of your dreams.
Why waste all that great space? If you are in the market for any kind of basement remodel, large or small, we hope you will contact Colorado Finished Basement and let us earn your business.