Basement Bar
Are you considering adding a basement bar as part of your basement remodel? They make a fantastic addition to a finished basement with a family room, a game room, or an entertainment room. After all, what kind of entertainment doesn't go down smoother with a drink or two?
Your basement bar can be anything from a cabinet and a countertop to an elaborate mini-kitchen with a sink and a fridge. It can be carved, polished wood, it can have a marble countertop, it can have a gorgeous stained glass backdrop. Chandeliers? Recessed lighting? It's all up to you.
Whether you want simple or elaborate, it's entirely up to you. Your basement bar can even mimic the look of your favorite bar! Cheers, anyone? You can even give your own bar the feel of a sports bar with the inclusion of a flat screen on the wall in front of the seats!
Of course, the amount of space available will determine the size of your basement bar. But if space is no obstacle, then you have many options. Short and straight? Long and curved? Going around a corner of the room? In front of a window? Or with shelving behind it to show off your bottles of premium liquor?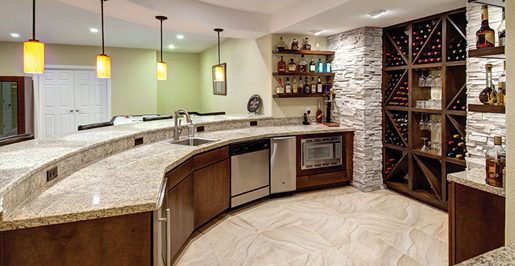 At Colorado Finished Basement, we have been creating custom-designed basement bars for our clients for over twenty years. If you can imagine it, we can certainly design, source, and build it! You might be surprised at the wide variety of styles available. Your bar can be rustic or chic, traditional or modern, and anything in between.
Take a look at our basement gallery to see some of the bars we have created for previous clients in the Denver vicinity and across the Front Range.
Or to really get your imagination flowing, take a look at this page of gorgeous basement bars on the interior design sit Houzz.com.
A basement bar doesn't just have to be added at the time of a basement remodel. It can be added in at any time. So if your basement is already finished and decorated, and you realize you really wish you had added a bar, well, it's not too late. We'll match the look of your bar to the rest of your basement, to make sure it really fits in with and enhances the décor.
Here at Colorado Finished Basement, we pride ourselves on our workmanship and our customer service. If you have any questions about the process of adding a bar, or you would like to make an appointment to create the design for your new bar, we hope you will contact us today by phone or email. Our experienced sales staff can answer all your questions and help you create the perfect basement bar.