Your expert basement finishing contractors
Don't let your basement go to waste. Real estate in Colorado is getting more and more valuable, so why not take full advantage of every square foot your home can offer? If you haven't thought about remodeling or finishing your basement for a while, this might be the perfect time to do it. With a beautifully finished basement, Colorado homes are actually worth substantially more money.
But, that last sentence is only true if the basement is finished up to the same quality standards as the rest of the home. For that, you want the experts at Colorado Finished Basement.
There is no one size fits all finished basement, Colorado! Your home's basement can morph into an amazing array of different types of spaces, depending on what you want to use it for. If you'd like to use your basement to make more money, you can have it finished to house a home business or office. Or you can have it separated into one or two different living spaces to be rented out.
With a finished basement, Colorado homeowners can even "go all the way" and add a mini-kitchen, a new bathroom, and turn it into a mother in law apartment that can fetch big bucks.
But what if you don't want or need to earn any extra income with your finished basement, Colorado homeowners? What if you are looking for a fantastic entertainment room, complete with a wet bar, a pool table, a great sound system, a giant screen TV, or any other type of entertainment your family desires?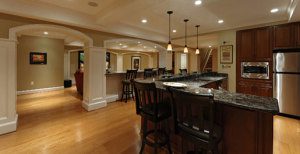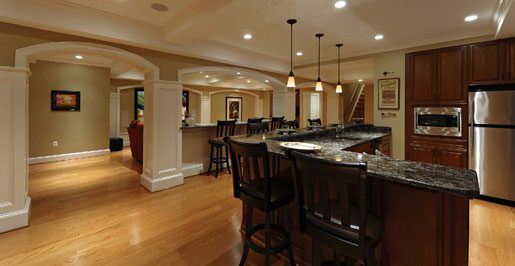 Or what if you would love for your finished basement in Colorado to be a home theater, with a huge screen, a popcorn machine, and actual movie theater style seating? Or what if you just need a small guest bedroom, an office, a room with built in shelving for storage? Or perhaps you would prefer a big new bathroom, complete with a sauna?
When you work with Colorado Finished Basement, we will custom design the space to fit exactly what you need. You'll be assigned a project manager who will handle the basement remodel from start to finish, ensuring the job goes smoothly and there is always someone available to answer your questions.
A beautifully finished basement in Colorado homes: why wait any longer?
Click here to see some of the stunning finished basements Colorado clients have ordered from us in our fifteen years in the "basement business." We can do just about anything, construction-wise, from the simple to the fancy, from the small to the massive. We can break up the space any way you like, or leave it as one large room.
For more information about creating a lovely finished basement, Colorado from north to south and east to west, we hope you will contact us today.