Usable living space
As the cost of real estate in Colorado goes up, up, up, savvy homeowners are looking for ways to get the most use out of the space they already own. Why leave any of your potentially usable living space off the table? With basement remodels, Colorado homeowners can create any kind of room at all in their basements, and make the most of their homes.
Many homeowners wish for a certain type of room, or a way to expand their usable space. And yet, at the same time, their basements are frequently uninviting, unspecific spaces that don't lend themselves well to what the homeowners need. With basement remodels, Colorado space-loving residents can have the advantage of:
1. An entertainment room, a play room, or even a home theater or media room. This can include whatever accessories you want, from a pool table to a giant flat screen tv with surround sound.
2. A family room or a lounge or bar area to entertain guests. Do you need a beautiful stained glass backdrop behind that new custom built bar? If so, please contact our sister company, Scottish Stained Glass for stunning custom designs. With these types of basement remodels, entertaining becomes so much more fun.
3. A home office, complete with as much built in storage as you might need to stay organized and motivated.
4. An extra guest bedroom, an extra bathroom (with built in sauna?), or an entire mother-in-law apartment including kitchenette. With our custom basement remodels, Colorado homes can serve their owners exact needs in a warm and inviting way.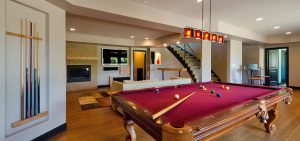 When it comes to our custom basement remodels, Colorado customers can work with one of our designers to ensure they are getting exactly what they want. Imagine your dusty and barely used basement transformed into new rooms that are as beautiful and well-constructed as the rest of your home!
Do you need extra sound proofing installed, so your teens can play video games at the highest volume without bothering anyone else? Do you need more or different lighting, so the basement barely feels like a basement at all? Do you need one large space customized into various different smaller rooms? Do you need a fireplace or a fabulous brick wall? Do you need luxury and beauty in your basement? With basement remodels, Colorado homeowners can use every available inch for their own purposes, in style!
Take a look at some of our stunning basement remodels, Colorado! See anything you like? Whether you are inspired by the ideas in these photos or have ideas all your own, we'd love to collaborate with you on a great new basement space.
Did you know that basement remodels offer exceptional ROI? Please contact us today for more details…