Remodeling experts
When it comes to beautiful basements, Colorado Finished Basement is your remodeling go-to expert. Whatever you are looking for in your basement, we have fifteen years of basement remodeling experience and a passion for outstanding workmanship and customer service behind us to provide it.
With their basements, Colorado residents are looking for a wide variety of different uses. Some want a playroom for the kids, so their games and toys are not cluttering up the living room, and the parents can have a bit of peace and quiet from the sounds of video games and general merriment. We can build fabulous designed-to-withstand-kids kind of basements, Colorado!
Other homeowners need more bedrooms or bathrooms, either for their expanding families or for out of town guests. Some need the space to house college kids coming home, or in-laws coming to live. Others would love to get a whole new stream of income by having a mother-in-law apartment, complete with kitchenette or maybe even a full kitchen, in their unused basement space.
As you can see, when it comes to basements, Colorado homeowners can put them to good use and customize them for just about any need. Working from home and wishing you had more storage space or a quiet room to set up shop? How about a basement office?
Love to entertain, but hate to mess up your formal living room? How about an entertainment room in the basement, with lots of comfy seating, a fireplace (or faux fireplace, if it isn't possible to vent a real one), or even a custom designed bar for guests to kick back at?
Love billiards or ping pong? Why not a great comfortable space where you can hold tournaments?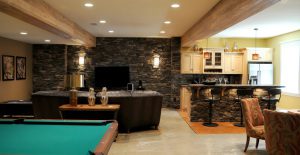 Do you need more light in your basement? How about beautiful pendant lighting, traditional recessed lighting, or even led strip lighting to brighten it up?
With fully remodeled basements, Colorado homes are also adding substantial value. Basements have a terrific return on investment, particularly if they are not cobbled together but built by a quality contractor, to the same quality standards as the rest of the home.
So why leave your basement dusty and unused? If it's damp, uninviting, shoddy, cold, ugly, or just a mass of wires and unpainted drywall, we can definitely help. Basements, Colorado, should be an equal part of your home, not some ugly stepchild!
Why not take advantage of all that potentially usable and beautiful space? Click here to take a look at our gallery of remodeled basements, Colorado, and set your imagination to dreaming of exactly what kinds of features you'd like in yours.
When you work with Colorado Finished Basement by Scottish Home Improvements, you will work first with a designer to get the plan down, then with one of our experienced project managers who will be available to answer any questions and ensure the job is proceeding smoothly and on schedule.