Improve your basement space
What is the state of your basement? Is it completely unfinished? Partially finished, with still rough areas? Is it finished, but completely blah, unwelcoming, and pretty much unused? Have you considered improved basements, Colorado?
After all, real estate is pricey here. Whether your basement is only 500 square feet or 1500 square feet, why let those feet go to waste? With improved basements, Colorado homeowners can make use of every inch and have a basement they love to hang out in. Or do some work in. Or play games in. Or watch movies in. Or entertain in. Or rent out!!!
Improved basements, Colorado homeowners know, add value to their homes along with the renewed amount of great living space. And when you work with us here at Colorado Finished Basement, we will help you design the space so that it contains exactly what you need.
Are you looking to start a business from home or work from home? Then perhaps you need some of that basement space set aside and walled off for a comfortable office, with the right wiring for all the tech you need and maybe even a bit of soundproofing so you can concentrate.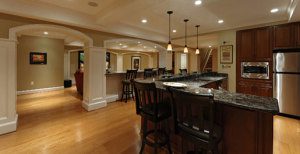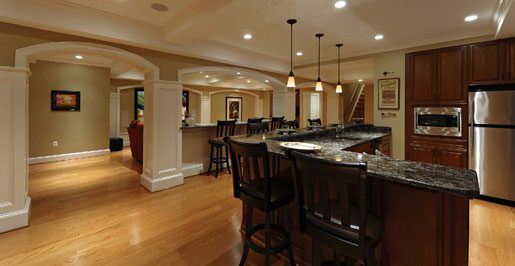 With improved basements, Colorado homeowners can have a whole new stream of income. Build a nice bedroom and bathroom in part of your basement, or turn the entire basement into a fantastically appointed mother-in-law apartment, with kitchen or kitchenette. Rent it out and keep your privacy, especially if you are lucky enough to have a walkout basement!
Now, once you've got one of these improved basements, you might want to decorate it just as beautifully as the rest of your home. And you might be a bit dismayed that the little well windows are so unattractive. If you'd like to do something elegant and fabulous with those windows, we recommend our sister company, Scottish Stained Glass, for custom stained glass windows that will block the ugly view and take the new basement to the level of the rest of the house.
Improved basements, Colorado residents are finding, are a great investment in terms of ROI as well. When you work with Colorado Finished Basements by Scottish Home Improvements, you can design the space any way you like. We'll provide a project manager who will answer all your questions, make sure the job is proceeding on track, and that everything is done to the top quality you want.
Isn't it time for improved basements, Colorado? Isn't it time to get rid of that musty, dusty, funky space that no one wants to use and replace it with a new family or entertainment or games room? Why not contact us today for a quote on a new and improved basement?