Best choice for basement remodels
Colorado Finished Basement is Colorado's best choice for basement remodels of any kinds. We have fifteen years of experience under our respective tool belts and a triple A rating from the Better Business Bureau . . . not to mention raves from our clients throughout the years.
Colorado basements are pretty valuable real estate these days. Are you making the most of yours? If not, what's stopping you? Did you know that finishing or remodeling your basement is a good investment for your home, with excellent ROI—especially if the work in your basement is of equivalent quality to the workmanship throughout the rest of your home.
Many people with mostly unfinished Colorado basements call us to remedy that situation. Instead of just heaping excess stuff in the basement, they actually want to use it for constructive purposes. At Colorado Finished Basement, no job is too big or too small. If you want one small partition breaking up the space, or a full remodel to turn your basement into a mother in law apartment, we can do it and do it well.
Here are some of the many uses you might want to put your Colorado basements to:
1. New family room or playroom, something so comfortable and engaging everyone will want to hang out there.
2. Guest bedroom or two, for those of you who have out of town family and friends regularly descending.
3. Bedroom for returning college kids, after you've taken their original bedrooms and done something else with them.
4. Entertainment room, with a bar, a fireplace, a sound system, whatever YOU want.
5. Home office or space to keep the inventory of a home business, with built in shelving custom designed for your needs.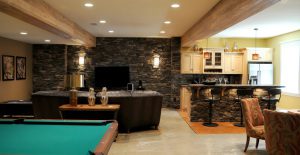 6. Sewing room, reading room, music room, art studio, or other craft room.
7. Home theater, including a bar, seating, giant screen TV.
8. Home chapel, prayer room, meditation room.
9. Extra bathroom, perhaps even containing a sauna or small steam room . . . aaaah!
10. Extra living room, if you are planning to rent out the basement for extra money.
The way you break up the space for your newly rebuilt Colorado basements is up to you. The features you want, the furnishings you want, the amenities you want. We work with you, creating custom designs to meet your needs.
For more information about finished, refinished and remodeled Colorado basements, we hope you will contact us today at Colorado Finished Basement. We will set up an appointment to see the space, work out the design you want, and give you a competitive bid for the job. We'd love to earn your business!