Basement entertainment for the whole family.
With a basement remodel, Colorado homeowners can receive a wide variety of different benefits, from adding value to their home to adding more usable space to do the things they want to do. And one of the things our basement remodel clients in Colorado seem to want most are entertainment rooms, game rooms, and home theaters.
Usually, when a homeowner contacts us about a basement remodel, they have a specific idea in mind for usage of the space. But sometimes they only know that their basement is dark and drab, or finished thirty years ago and out of date, not matching the rest of the house. When it comes to making the most out of a basement remodel, Colorado homeowners are encouraged to give thought to the specifics, because the end usage will definitely impact the way the remodel is done.
For instance, if you are looking to add a mother-in-law apartment to your basement, that would be a very different remodel than if you want to use your basement for entertainment. What if you've got a bunch of video game playing teens, and a couple of ping pong loving younger kids? Or maybe you're the ping pong lover. If you can tell us what you want the basement used for, we can make some great suggestions. How about a smaller, well sound-proofed room for the teens' video games? And a larger space that will accommodate the ping-pong table, perhaps with some areas of cushy seating or a built in bar for those family tournaments?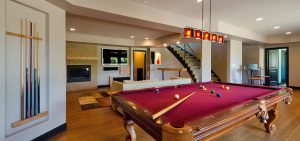 When it comes to basement entertainment, our Colorado clients sometimes want a home theater, complete with giant screen TV, dolby surround sound, and even movie theater style seating. That's just one type of basement remodel Colorado customers have been asking for.
What type of basement remodel are you looking for? Here's a tip when it comes to getting the best ROI from your investment: Basements have great ROI in terms of adding value to your home if and only if they are built to the same quality as the rest of your home.
So when it comes to a basement remodel, Colorado residents are advised to seek a contractor with experience and the reputation for high quality work such as Colorado Finished Basement by Scottish Home Improvements.
When you work with us, you'll be assigned a highly experienced project manager who will supervise and stay on top of your basement remodel, start to finish. There will always be that one person who will be available to answer any questions and smooth out any issues that might arise.
For more information or a bid on a basement remodel, Colorado customers are invited tocontact us today.