Basement bar for entertaining.
If you are considering turning your basement into a family room or entertainment room, someplace you'll really enjoy hanging out with family and friends, then you might want to consider a basement bar.
Why leave home to go out to that overpriced, dark, noisy corner bar when you can kick back in comfort right in your own home? And no worries about driving under the influence, either.
The fact is, a basement bar will make entertaining so much more fun. It will become the focal point of your basement and everyone will want to hang out there.
When it comes to building a custom basement bar, there are so many choices, it's mind boggling. Do you want a wood bar? A metal bar? A carved bar or a simple bar? Do you want shelving behind the bar? Or how about a fabulous tiled or stained glass backdrop giving guests something unique to look at while they hang out on your cushioned and comfy barstools?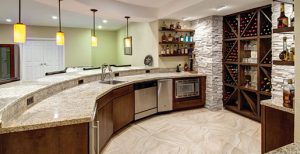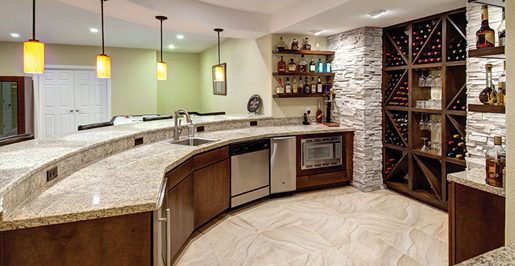 If you have always wanted a basement bar of your own, you might already have a specific idea in mind as to how you would like it to look. If not, then why not take a look at our basement photo gallery to see some of the bars we have custom-designed and built for previous clients? Click here to see the gallery.
You might notice that each bar in the photos is quite different. That's because when you work with Colorado Finished Basement, we do custom work to your specifications. If you already have a finished basement, adding in a new bar will really add to the usability and the décor. If you want a whole new basement remodel with a bar included, we can handle that as well.
What features do you want in your basement bar? Of course, you'll need an outlet or two for the blender and the under-bar fridge, to keep your snacks and fruit in. And you might want some special lighting over or behind the bar as well, but nothing too bright of course!
Your basement bar doesn't just have to be a counter with stools. You can expand that bar feeling by adding a pool table, some comfy seating, perhaps even a fireplace if the structure of your basement permits.
We do have to caution you, however. Don't get so comfortable in your basement bar that you never leave the basement. It is fun to get out once in a while!
If you are looking for a new basement bar or any other type of basement remodel, we hope you will consider Colorado Finished Basement for the job. We have fifteen years of home improvement experience and we'd love to show you what we can do.